Rep. Hill Introduces WWI Valor Medals Review Act to Honor Unrecognized Minority Veterans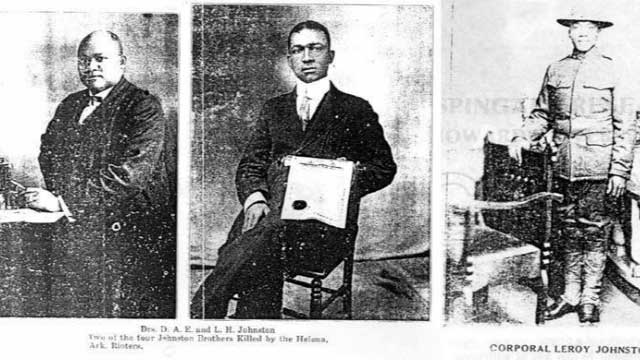 An African-American World War I veteran and Pine Bluff native,
Leroy Johnston (right) is shown with two of his brothers, Drs. D.A.E. (left) and L.H. (center) Johnston. Rep. Hill and his staff members were instrumental in ensuring that Johnston's finally received his long overdue medals.

WASHINGTON D.C.
— Today, Representative French Hill (AR-02), Representative Emanuel Cleaver (MO-05), and Representative Sam Graves (MO-06) released the following joint statement after introducing H.R. 2249, the World War I Valor Medals Review Act, a bipartisan bill that would review the military records of minority service members of the Armed Forces during World War I to determine if they should be awarded the Medal of Honor:
"In October 2018, I awarded the family of Sgt. Leroy Johnston medals he earned but did not receive,"
said Congressman Hill
. "Like many during WWI, Sgt. Johnston was a victim of discrimination. Today, we have an opportunity to correct this injustice for countless American heroes and their families. I'm proud to work with my House colleagues to ensure that all minorities who served in WWI are honored with the recognition they deserve."
"This piece of legislation has been a long time coming,"
said Congressman Cleaver
. "For over a century, American heroes who served in WWI have gone unrecognized for their courageous and selfless acts during the Great War strictly because of America's sad history of discrimination. With this bill, we have an opportunity to right this wrong for service members who are deserving of our military's highest honor and the families who are entitled to their relative's story. I'm thankful for the bipartisan support we have garnered and will continue working to ensure these veterans receive the recognition they deserve."
"The freedoms we enjoy here at home are made possible by the men and women who put themselves in harm's way to defend liberty,"
said Congressman Graves
. "Every veteran who served honorably and whose actions warrant the Medal of Honor should be recognized regardless of their background or the color of their skin. It is important that we continue our commitment to those who have given so much in defense of our country, and I am proud to work with my colleagues in advancing this important legislation."
Background:


The full text of the World War I Valor Medals Review Act can be found
HERE
.
A Senate companion bill has been introduced by Senator Chris Van Hollen (D-MD) and Senator Roy Blunt (R-MO).
(Courtesy of Senators Van Hollen and Blunt)

The World War I Valor Medals Review Act would require the Department of Defense to review the service records of African American, Asian American, Hispanic American, Jewish American, and Native American war veterans who were awarded the Distinguished Service Cross or Navy Cross, or who received a recommendation for the Medal of Honor for an action that occurred between April 6, 1917, and November 11, 1918. It would also require a review of the service record of veterans awarded the Croix de Guerre with Palm by the Government of France. This review would be conducted in coordination with the Valor Medals Review Task Force, which will raise private funds to complete the project. The bill authorizes the Secretaries of the Army and Navy to recommend veterans determined to merit the Medal of Honor as a result of the review to the President. It also waives statutory time limits which would preclude such a recommendation being made.
This bill is endorsed by the Veterans of Foreign Wars, American Legion, American GI Forum, and Congressional Black Caucus Veteran's Braintrust.