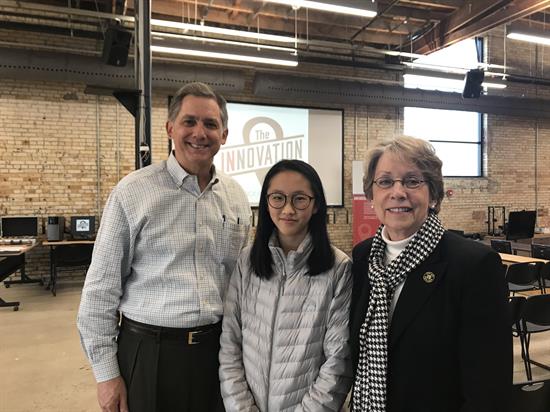 Pictured: Rep. Hill with 2017 App Challenge Winner, Anne Li, and Nancy Rousseau, Principal of Little Rock Central High School, at the Innovation Hub in Little Rock.
Since I was elected to Congress, I have had the opportunity to see more than 100 apps created by high school students in Arkansas's Second Congressional District. It was also my honor to be the Congressional App Challenge's Republican Co-Chair from 2018-2020. These apps have covered a wide range of topics such as safety, healthcare, school lunch programs and games. I am continually encouraged by the creativity of our youth and the Congressional App Challenge is a way to highlight those in central Arkansas who are learning to code. In the last few years, Arkansas has made a name for herself as one of the leaders is app technology through organizations like the Innovation Hub and the Venture Center.

The Congressional App Challenge is designed to engage student creativity and encourage their participation in Science, Technology, Engineering and Math (STEM) education fields. This nationwide event allows high school students from across the country to compete against their peers by creating and exhibiting their software application, or "app," for mobile, tablet, or computer devices on a platform of their choice, using the coding language(s) of their choice.

The App Challenge takes place every fall. The 2023 Congressional App Challenge will launch in mid-June. Submissions will close November 1, 2023. Those interested in participating are encouraged to contact my Little Rock office by phone at (501) 324-5941 or visit the Congressional App Challenge site here. Students may enter alone or in a group of up to four students. Apps do not have to be 100% complete or even fully working.
Apps will be judged by a panel of individuals within the academic, software and entrepreneurial fields. The winning student's app will be featured on the U.S. House of Representative's website, as well as on display in a U.S. Capitol exhibit.

2022 App Challenge Winner: Sabian Murry, Bryant High School, with her app "College Checklist."

2021 App Challenge Winner: Neil Sash, Episcopal Collegiate School, with his app "Global Home Doc."

2020 App Challenge Winner: Noah Taylor, Conway High School, with his app "Reaffirming Reminders."

2019 App Challenge Winner: Anu Iyer, Little Rock Central High School, with her app, "Universal Safety App (USA): Safety App for reducing Distractions While Driving."

2018 App Challenge Winner: David Saavedra, Clinton High School, with his app "ERNY (Emergency Response Near You)."

2017 App Challenge Winner: Anne Li, Little Rock Central High School, with her app "Car Check."

2016 App Challenge Winner: Michael Davis, Bryant High School, with his app "What to Do."

2015 App Challenge Winner: Michael Davis, Bryant High School, with his app "Situational Awareness."