Rep. Hill: It's Time for a Vote on USMCA
WASHINGTON, D.C.
— This week, Congressman French Hill (AR-02) continued championing America's trade priorities, advocating for finalizing the United States-Mexico-Canada Agreement (USMCA). Congressman Hill appeared on
AETN's Arkansas Week
with Steve Barns to discuss the latest developments with USMCA trade negotiations and why Speaker Nancy Pelosi needs to bring the trade deal to the House floor for a vote. Click on the video below to watch his remarks.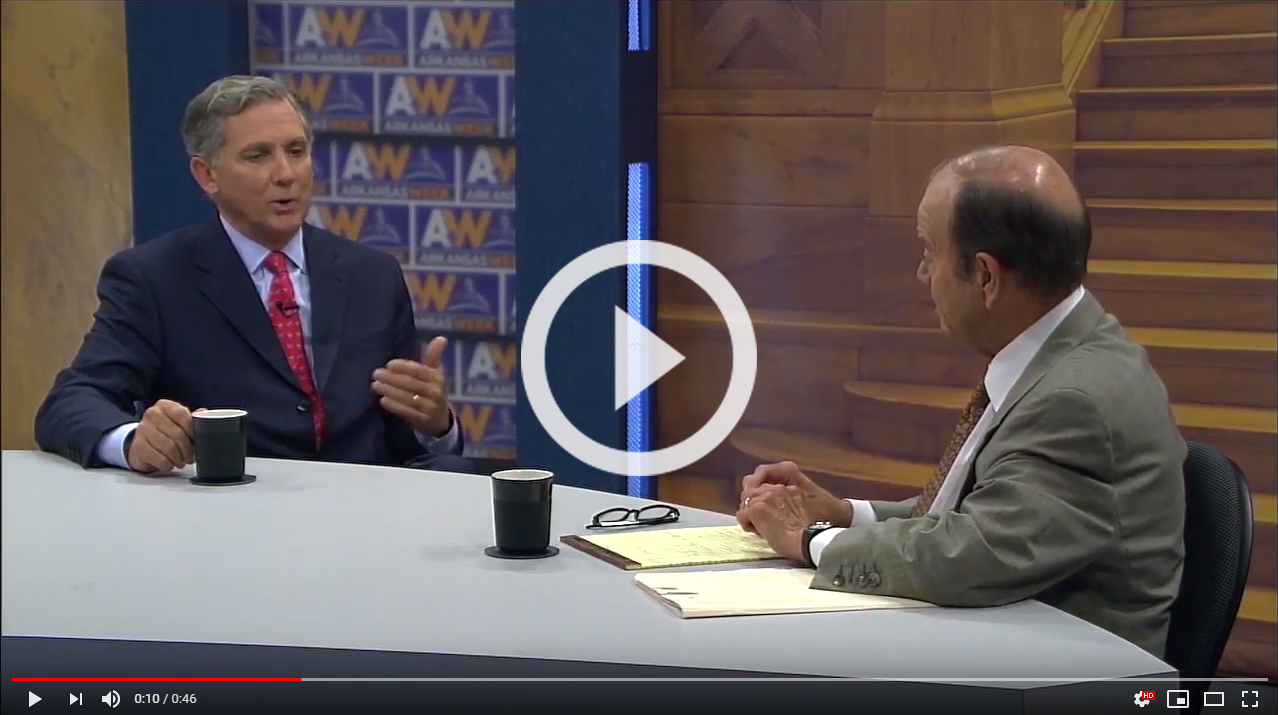 "I support the USMCA. I worked on the original NAFTA, the North American Free Trade Agreement, back when I worked for President George H.W. Bush. As we are taping this show, Speaker Pelosi is having a conference call with her Democratic Conference to discuss whether or not she can bring up USMCA for a vote in the House. I hope she does. It would be a win for America, it's good for our country, it's an improvement over NAFTA, and it's great particularly for the 100,000 Arkansans that are tied to trade with Canada and Mexico."

Congressman Hill is a member of the USMCA Republican House Whip Team and has extensive international experience working on trade. In 1989, he served as Deputy Assistant Secretary of the Treasury for Corporate Finance, where one of his key assignments was representing the United States as a negotiator in the historic bilateral talks with Japan known as the Structural Impediments Initiative (SII).


Last month, Congressman Hill joined
KARK's Capitol View
to discuss the positive impact that USMCA will have on Arkansas's 100,000 farmers and producers who will benefit from the new trade deal. Click on the video below to watch his remarks.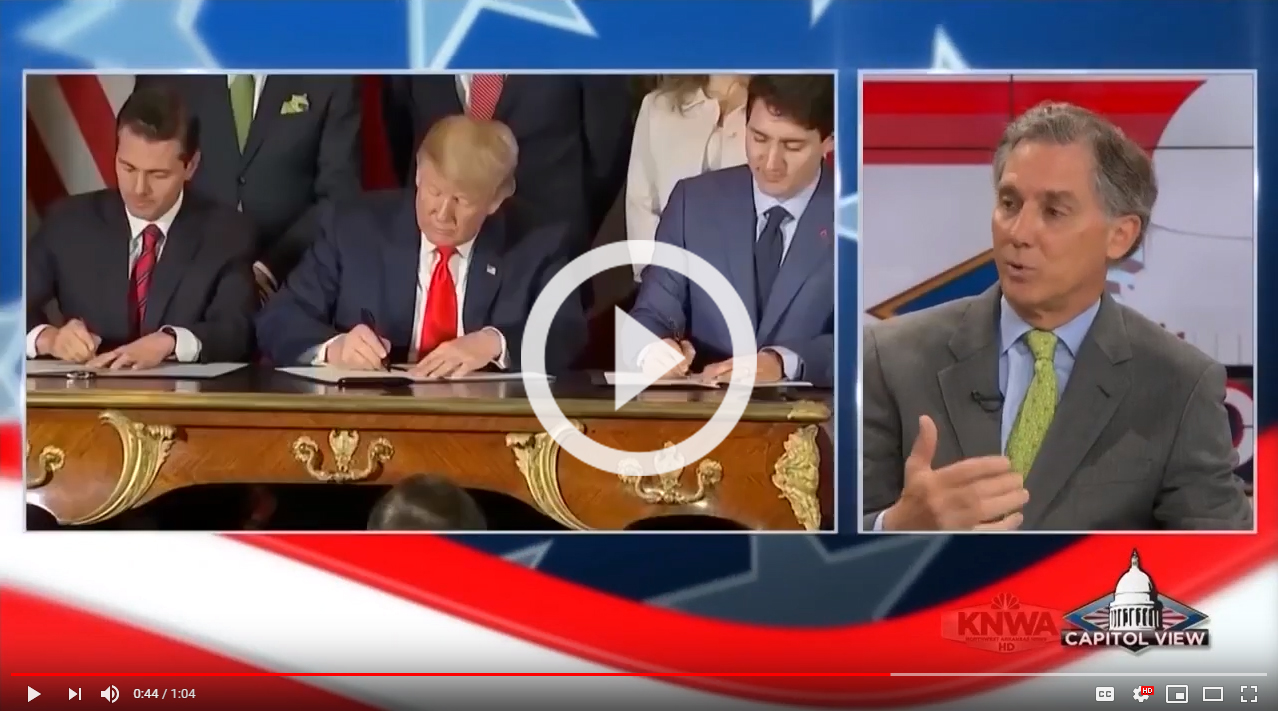 "President Trump wanted to renegotiate NAFTA, the North American Free Trade Agreement. He got that done over the past two years. It's now ready to go before Congress and be approved by the House and Senate. I support it. It is an improvement over NAFTA. It will help Arkansas farmers and Arkansas producers, but it's being held up right now by Nancy Pelosi, who is the Speaker of the House, who is still pressing President Trump for changes. Mexico has approved it. Canada has approved it. I think for our economy and for all of our producers and for the 100,000 people in Arkansas that are employed because of USMCA, I want to get it through the House this fall. I don't see how the Speaker will stand in the way of this deal, which is a big improvement, will help the United States be more competitive, and is a good replacement for the old 25-year-old North American Free Trade Agreement."
In May, Congressman Hill joined Pedro Echevarria on
C-SPAN's Washington Journal
to discuss the benefits of improved enforcement mechanisms and intellectual property (IP) protections included in the new USMCA trade deal. Click on the video below to watch his remarks.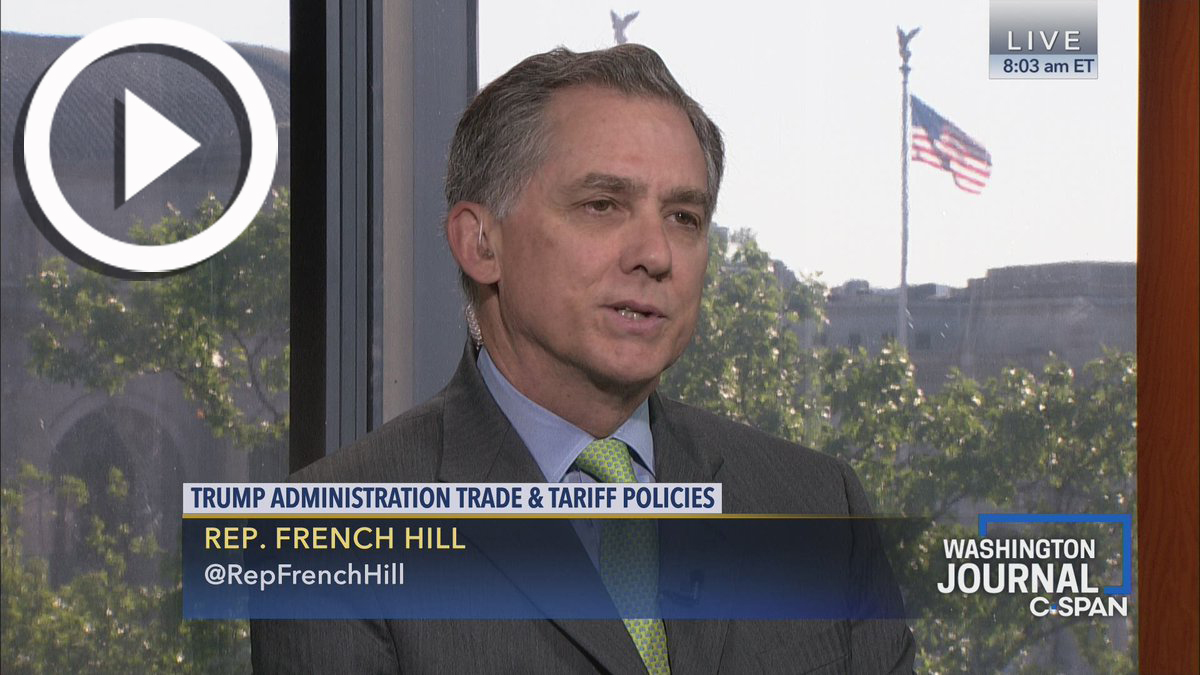 "I do think if you're going to have a bilateral or trilateral trade agreement, you have to have enforcement mechanisms and you have to have dispute resolution [mechanisms]. This USMCA has both and the agreement of digital trade and modernizing the agreement for the information technology world and intellectual property world that we have is a big step up from the old 1994 agreement. That's why, on balance, I believe the USMCA is an improvement over NAFTA. It's good for the United States. President Trump accomplished the goals he laid out in modernizing NAFTA and I believe Congress should move it expeditiously for approval."
Earlier this year, the
Arkansas Democrat-Gazette
published an op-ed by Congressman Hill highlighting the importance of finalizing USMCA in order to open trade markets for Arkansas exports—including services, agricultural, manufacturing, and energy. That op-ed can be read
HERE
.

"On balance, the USMCA is a successful renegotiation of the North American Free Trade Agreement. It is superior to the existing arrangement and is a far better proposal than the alternative of scrapping NAFTA and returning to World Trade Organization rules. This agreement is good for American workers, taxpayers, businesses, and consumers and will keep the United States and our North American markets competitive for decades to come."