House Passes Hill Bill Honoring Arkansas Civil Rights Hero, Scipio Jones
WASHINGTON D.C.
— Congressman French Hill (AR-02) released the following statement after passage of his bill to honor Arkansas civil rights champion and lawyer, Scipio Jones. Rep. Hill's bill, H.R. 3317, the Scipio Jones Post Office Portrait Act, allows a portrait of civil rights champion Scipio Jones to be displayed in the Little Rock post office bearing his name.
"Arkansans are deeply proud of Scipio Jones and his courageous fight for justice and equality, and today's action by the House ensures that generations of Arkansans and visitors alike will have a visual reminder of his important role in Arkansas's history," said Congressman Hill. "I thank the House Oversight Committee for quickly bringing this legislation to the House floor for a vote as well as Senator Boozman and Senator Cotton for partnering with me to introduce companion legislation in the Senate. Sometimes it takes an act of Congress, and I am grateful to have so many partners and supporters in the Capitol."

Click HERE or on the image below to watch Congressman Hill's remarks from the House floor.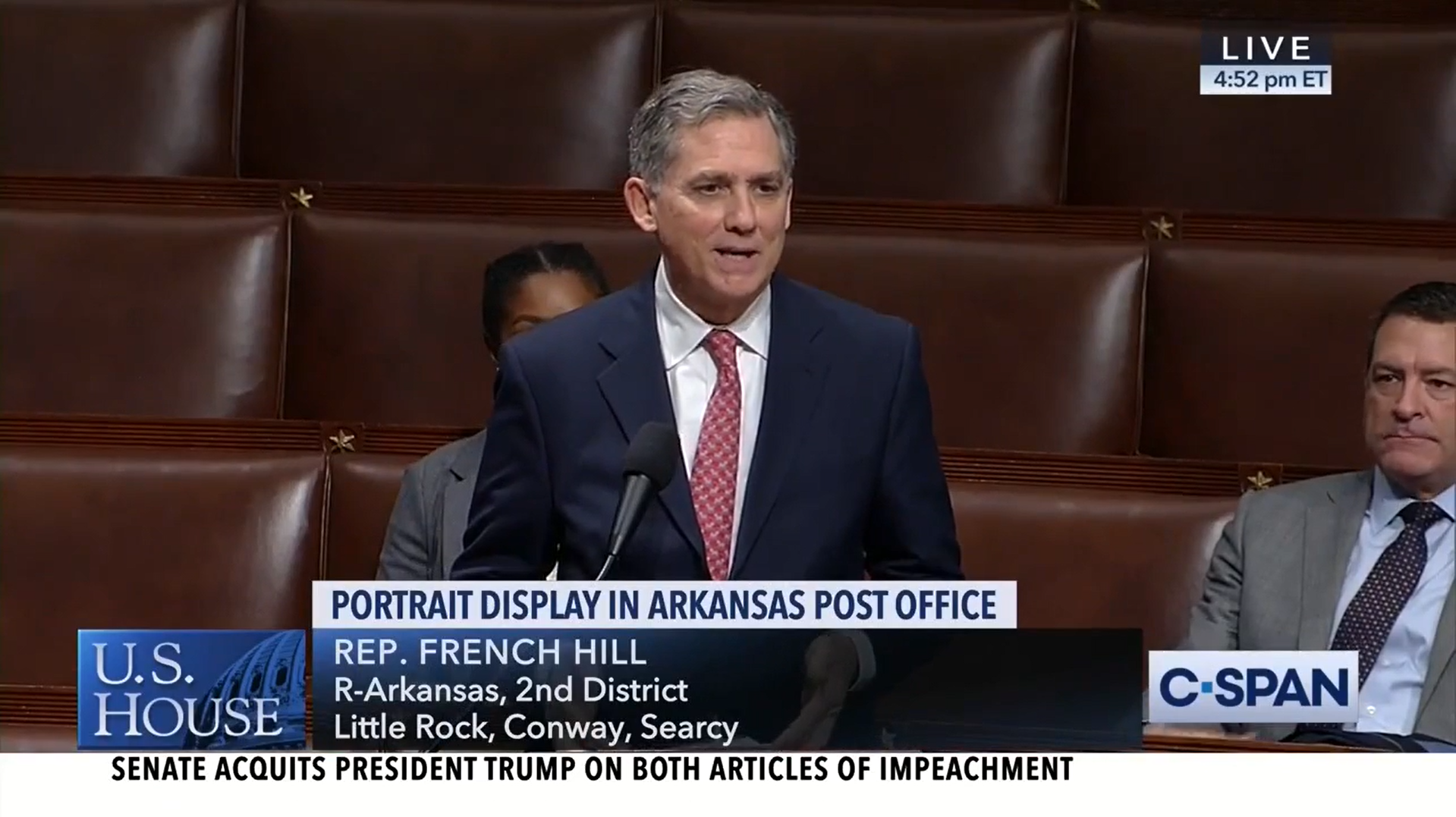 Congressman Hill delivers a speech on the floor of the House in support of the Scipio Jones Post Office Portrait Act.
About Scipio Jones
Scipio Africanus Jones, who was born to a slave in 1863, attended Walden Seminary (now Philander Smith College) and then attended Bethel Institute (now Shorter College), earning his bachelor's degree in 1885. In 1889, Jones passed the bar and was admitted to practice before the Supreme Court of Arkansas in 1900 and by the U.S. Supreme Court in 1905.
After the Elaine Massacre in 1919, he defended 12 black men who had been charged with murder and condemned by all-white juries.
Despite its being described as a "race riot," most of the victims were black and most of the aggressors were white. With his clients already facing execution, Jones fought their convictions, in both state and federal courts. An appeal was filed with the U.S. Supreme Court, arguing that the accused had been denied due process of law. After reviewing the case, Moore v. Dempsey, the Supreme Court agreed.

About H.R. 3317, Scipio Jones Post Office Portrait Act
In 2007, the House passed legislation to name the post office located at 1700 Main Street in Little Rock, Arkansas after Jones.
Today, a plaque at the post office bears his name, but post office regulations restrict the items that can be placed on display.
On June 18, 2019 Rep. Hill introduced legislation to allow a full-sized portrait of Scipio Jones to be on display at the post office in Little Rock which bears his name. Funds for the portrait will be raised privately and no taxpayer money will be spent on the artwork. The legislation passed the House Committee on Oversight and Reform on December 19, 2019 and was referred to the full house for consideration on February 5, 2020.

Related News Coverage
On January 20, 2020, the Arkansas Democrat-Gazette reported on the legislation to legislation by Hill (H.R. 3317) and Boozman and Cotton (S. 3187), to authorize displaying the portraits of Scipio Jones. The article can be read HERE, and the following is an excerpt:
"U.S. Rep. French Hill of Little Rock introduced House legislation last year that would authorize the post office to 'accept and display a portrait' of the trailblazing black attorney. The artwork would be a fitting tribute, Hill said, to 'a great Arkansan, a great lawyer, a great businessman' and a great champion of constitutional rights."
On January 21, 2020, the Arkansas Democrat-Gazette published an editorial featuring Scipio Jones and his importance to the civil rights movement in Arkansas and the United States. That article also called attention to the Scipio Jones Post Office Portrait Act. Read the article in its entirety HERE, and the following is an excerpt:
"Arkansas' congressional delegation is seeking to make amends, somewhat. Two bills filed by French Hill and John Boozman would honor Counselor Jones with a portrait in the Little Rock post office that already bears his name. Private funds will take care of the painting, but as French Hill put it in the papers, to hang the thing takes an Act of Congress. So an Act of Congress it will be."