Dear Friends,

Last Friday, I was proud to join the Arkansas Martin Luther King, Jr. Commission to celebrate the life and legacy of Dr. Martin Luther King, Jr.
His work to promote peace, nonviolence, human equality, diversity, and reconciliation inspires nations and will be celebrated for generations to come.
Dr. King once said, "Life's most persistent and urgent question is, 'What are you doing for others?'" He realized that service to others is the key to a purpose-filled life.
Given the events of recent weeks, especially the January 6 attack on the U.S. Capitol, his message is imperative, as the unity we need will not be found in bitter partisan division, civil unrest, and political brinksmanship.
I pray that, as we transition into a new presidential administration and a new Congress, the values Dr. King stood for can once again echo in the halls of U.S. Congress and among families around the dinner table alike.
I offer my congratulations to the Arkansas Martin Luther King, Jr. Commission on their 28 years of important and impactful work throughout Arkansas continuing his legacy through service.

ANNOUNCING CO-CHAIRMANSHIP OF CONGRESSIONAL HBCU CAUCUS
I am honored to announce that I have been selected to co-chair the Bipartisan Historically Black Colleges and Universities Caucus for the 117th Congress alongside Rep. Alma Adams (NC-12) and Sen. Chris Coons (D-DE) and Sen. Tim Scott (R-SC).

For thousands of students in Arkansas and across the country, HBCUs like Arkansas Baptist College, Philander Smith College, Shorter College, and the University of Arkansas at Pine Bluff offer the essential tools to help students pursue the American Dream. I look forward to working with Senator Coons, Senator Scott, and Representative Adams to address the unique challenges that HBCUs face and expand opportunities for Black students. Our Caucus is committed to creating a national bipartisan dialogue about issues facing HBCUs and crafting legislation to support HBCUs and increase access to career opportunities for their students.

As we start the 117th Congress, my colleagues and I seek to address the unique challenges that HBCUs face and expand opportunities for Black students.

I look forward to working with Sen. Coons, Sen. Scott, and Rep. Adams to reach across the aisle and the Capitol to start a national dialogue about how to bolster our HBCUs — be it legislation or engaging with our businesses large and small to increase career opportunities.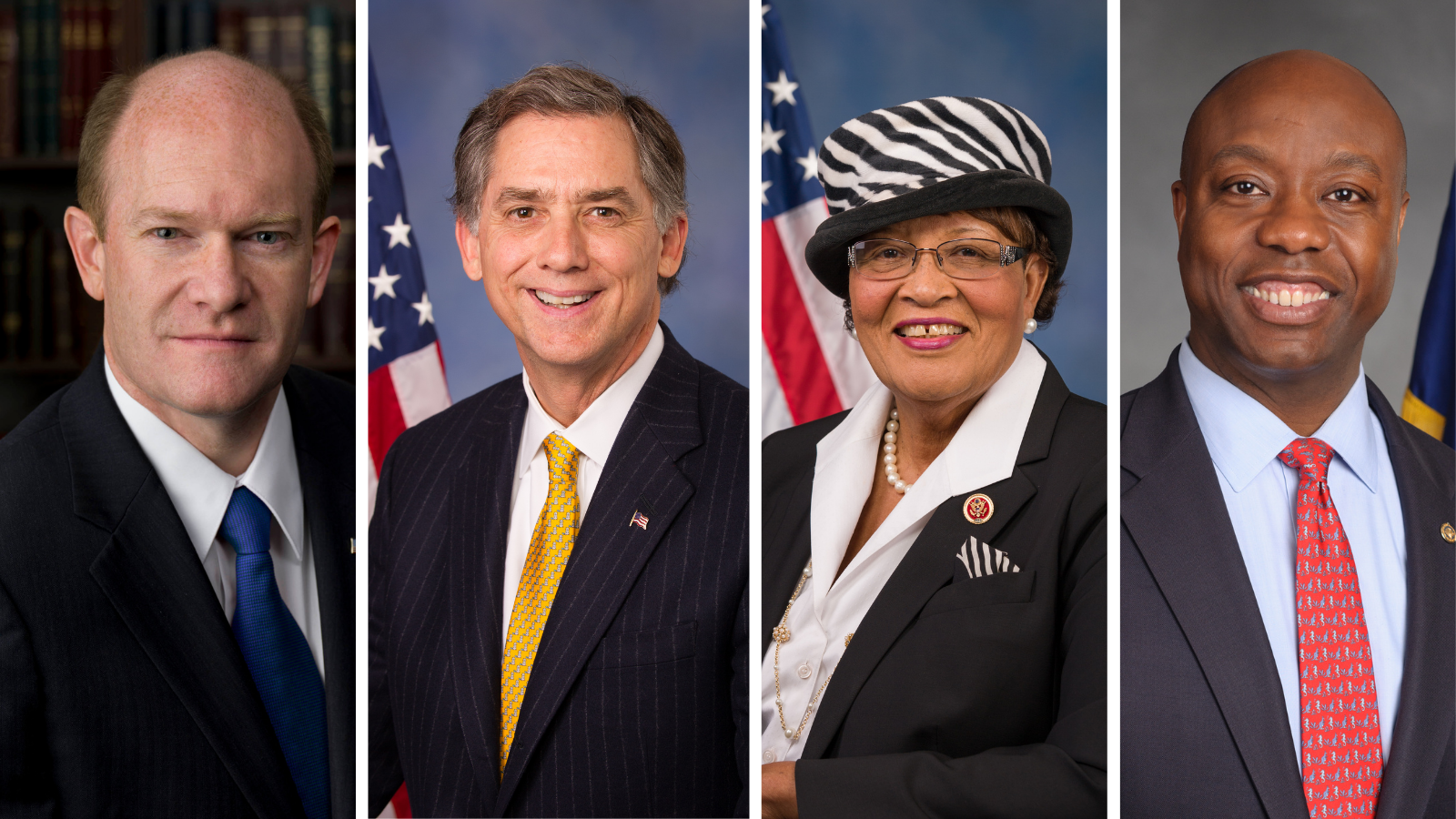 ---
INTRODUCING BIPARTISAN RESOLUTION TO HONOR U.S. CAPITOL POLICE
Last week, with my colleague Rep. Ed Perlmutter (D-CO), I introduced H.Res.39 to honor United States Capitol Police Officer Brian Sicknick and Officer Howard Liebengood, as well as the entire Capitol Police force and other federal and local law enforcement officers who courageously defended the U.S. Capitol during the attack of January 6, 2021.
I was humbled and honored to join Rep. Perlmutter in expressing our deep admiration and gratitude for the heroic actions of the men and women of the United States Capitol Police and to remember Officer Sicknick and Officer Liebengood, whom we lost in the days after the attack. My family and I pray for their families and for the continued safety of the entire United States Capitol Police force and federal, state, and local law enforcement officers across the country.
View the full text of the resolution HERE.
VOTING AGAINST THE IMPEACHMENT OF PRESIDENT TRUMP

After the horrific, catastrophic attack on the U.S. Capitol on January 6th by a mob committed to disrupting the work of democracy, our nation cries out for leadership.

In the wake of the attack, our leaders should have worked toward healing our wounds, both physical and spiritual. Instead, Speaker Pelosi held a vote to impeach the president.

President Trump was wrong to claim no responsibility for the toxic rhetoric that is directly connected to the attack on our Capitol. Likewise, President-Elect Biden should have followed up his calls for unity with concrete action and called for the Speaker to put an end to her plans for impeachment.

The leadership and unity our nation needs did not start with the Speaker's snap impeachment, which is why I voted against the article of impeachment against President Trump.

Going forward, we must honor our Constitution, preserve our Republic, and call on all Americans to advance the good of our nation.
---
RECEIVING YOUR ECONOMIC IMPACT PAYMENTS
Friday, January 15th was the deadline to receive an Economic Impact Payment (EIP) via direct deposit.
It may take several weeks for you to receive this payment in the form of a paper check of an EIP pre-paid debit card. The IRS is still working to issue those to Arkansans.
If you are eligible for an EIP but do not receive one, you may be able to claim a Recovery Rebate Credit in your 2020 income tax. I encourage Arkansans to file their taxes as soon as possible. As per the IRS, even if you usually don't file taxes, it is the only way to claim your first and/or second EIP.
For more information on the Economic Impact Payments and the Recovery Rebate Credit, please visit the IRS website HERE.
If you have questions, please contact me at (501) 324-5941 or Hill.House.Gov.
MEETING WITH ARKANSAS'S HOSPITALITY INDUSTRY

On Wednesday, I met with members of the Arkansas Hospitality Association. We discussed the challenges they have faced during the pandemic and the resources in the recently passed COVID relief bill that will provide much needed aid such as an extension of the Paycheck Protection Program.
Thank you to Edward Haddock from the SBA and the 16 hospitality leaders who joined me to discuss these important topics facing the Arkansas hospitality industry. I stand at the ready to continue our partnership and improve the economic circumstances for the important hospitality sector in Arkansas.
---
DISCUSSING CHINA'S COVID-19 MISHANDLING
China is continuing its cover-up of the coronavirus outbreak. Last Thursday, the Chinese Communist Party blocked World Health Organization investigators from beginning their investigation into the origins of the pandemic.
I joined Maria Bartiromo on Fox Business's "Mornings with Maria" to discuss the U.S.-China relationship. China withheld key information about COVID-19 from the outset, allowing the pandemic to spread. As we move into a new administration, I look forward to working across the aisle to hold China accountable.

---
STANDING UP FOR CHRISTIANS IN EGYPT
I have made religious freedom a central point of my foreign policy agenda in Congress. This includes not only legislation but working with legislators around through world.
On Friday, I was honored to speak at a briefing on confronting the persecution of Egypt's Coptic Christian community hosted by In Defense of Christians.
Addressing the Coptic crisis issue has been at the top of my foreign policy agenda since 2017 when I first introduced a resolution supporting Coptic Christians in Egypt and calling for an end to the Egyptian government's culture of impunity.
I look forward to working with my House colleagues on legislation in the 117th Congress that calls for an end to the persecution of Coptic Christians in Egypt and holds the Egyptian government accountable for its actions against those who seek the very religious freedom we enjoy here in America.
I extend my thanks to IDC's Advocacy Director Steven Howard for inviting me to speak at this important event.
---
APPLYING FOR FEMA ASSISTANCE TO FIREFIGHTERS GRANTS PROGRAM
The application period for the nationally competitive FY2020 Assistance to Firefighter Grants (AFG) is now open. The deadline to complete applications is February 12, 2021.
You will need to register for a DUNS number through SAM.gov before you are able to complete the application, and the approval times for that have been delayed in recent months.
FEMA is offering six virtual workshops throughout the month of January to assist fire departments with their applications and answer any additional questions. The schedule and registration information can be found HERE.
I am committed to seeing these grants come to central Arkansas. Contact me at (501) 324-5941 or Hill.House.Gov to let me know I can best support you – be it connecting you with a FEMA contact or simply providing a letter of support to accompany your application.
To learn more and apply for a grant, click HERE.
Sincerely,
Representative French Hill